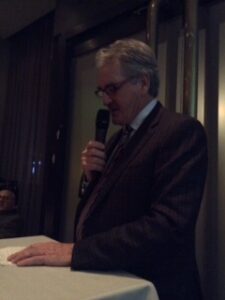 Bruder Springstead LLP attended a great evening at the Lee Samis Award Dinner on Feb 5th, 2014 in Toronto where 142 lawyers gathered to toast Geoff Adair QC.
Justice Tom McEwen had guests falling off their chairs laughing while Geoff's son and law partner John Adair made a moving speech about practising with his Dad. Among Geoff's many anedotes and words of wisdom the following rings true for all members of the Bar: "There is an incredibly fine line between good advocacy and intellectual dishonesty. As litigators, we must be vigilant to ensure that we never cross that line. Fight hard, fight fair, and do your best to walk away friends with your opponents."
Bruder Springstead LLP would like to congratulate Geoff on his much deserved award.